Welcome to the Renfrew Tennis Club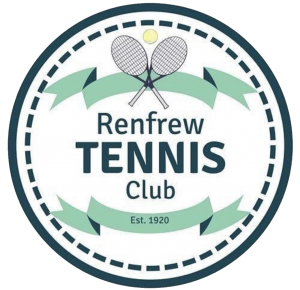 Court bookings must be made on-line using our new Skedda website. Information will be emailed to you on how to book court times once your 2020 membership fee is paid.
The club must keep a record of every player and what time/date they used the courts, so this online booking system is the way we have chosen to track this information.
• Reservations will be for a maximum 90 minutes (ex. 8:00 – 9:30 AM) however there will be a mandatory 15-minute window in which to wipe down surfaces that have been touched and allow players to leave the courts. So on this booking play would be from 8:00 – 9:15 AM with a changeover window from 9:15 – 9:30 AM
• Court Reservations must specify both players' names.
• Please respect your reservation time, especially in this time of fewer courts and greater demand. Booking cannot be made more than 7 days in advance, and players are limited at this time to no more than three 1.5 hour bookings/ week. (this will be re-evaluated weekly when a sense of the court demand is established)
• People who "no-show" will have reduced booking privileges.
We are using an online registration form this year.
Click the button above to access the form. Returning club members will receive the online registration form link via email.
Fill it in then THE FOLLOWING BUSINESS DAY pop into Aikenhead's Drugstore in Downtown Renfrew (Canada Post Counter NOT the front cashes) to pick up your court keys and shoe tags!
Aikenheads Hours hours are:
Online e-Transfers directly to the email address renfrewtennis@gmail.com are available (no password or security question required).
Monday – Friday 9:00 am-6:00 PM
Saturday 9:00 am-5:00 pm
Closed Sunday
2020 Membership Fees:
Family Membership $170.00 + $3.00 OTA fee for each Junior & Intermediate child included as part of the family membership.
Adult Membership $85
Senior Membership (65 & over at date of registration) $80
Junior Membership (under 14 as of January 1, 2020) $30
Intermediate Membership (under 18 as of January 1, 2020) $50
PLUS, the number of court keys you'd like at $3.00 each.
Aikenheads will NOT be accepting cash payments for Tennis memberships.
Online e-Transfers or if you'd prefer to mail your cheque into our treasurer you may make it out to "Renfrew Tennis Club" and send to: Renfrew Tennis Club 29 Nadobny Lane Renfrew, ON K7V 3Z9
The Renfrew Tennis Club is located at Ma-te-Way Park. For information, please contact us!
2020 RENFREW TENNIS CLUB EXECUTIVE:
President: Sandi Heins (433-2753)
Past President:Kevin Crozier (585-3303)
First Vice-President: Troy Lariviere (570-0370)
Second Vice-President: Logan Butson (433-1412)
Third Vice-President: TBD
Secretary: Martha Scott (432-3153)
Treasurer: Nancy Saumure (433-7309)
COMMITTEE CHAIRPERSONS :
Court Manager: Garry Irving (432-5944)
Junior/Intermediate Development: Garry Irving & Robert Pelletier (432-6132)
Club Tournaments-Senior: Bob Brydges (623-2789/851-2720)
Club Tournaments-Intermediate: Robert Pelletier
Club Tournaments-Junior: Garry Irving (432-5944)
Membership: Ruth McNulty (432-0883) & Nancy Saumure (433-7309)
Publicity: Jessica Belanger (613-717-1147)
Banquet Convener: Jane Donnelly (613-402-2241)
Annual Trophy Preparation: Martha Scott (432-3153)
OTA Contact: Garry Irving (432-5944)
Morning Tennis Group: Margret Leclair (819-593-2285) & Meena Ballantyne (432-9400)
Singles League: Robert Pelletier (432-6132)
Doubles League & Senior Invitational: Eldon Ferguson (432-2561)
Junior/Intermediate League: Robert Pelletier (432-6132)
Social Convener: Sheila Kemp